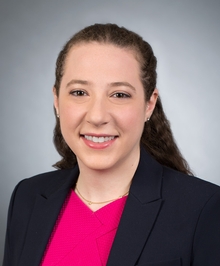 PRACTICES
Trusts and Estates
Elder Law and Special Needs Planning
Fertility Law
EDUCATION
The George Washington University, B.A., 2007

Syracuse University Maxwell School of Citizenship and Public Affairs, C.A.S., 2010

Syracuse University College of Law, J.D., 2010
ADMISSIONS
State and Federal Courts of New York
State and Federal Courts of New Jersey
United States Supreme Court
Department of Veterans Affairs
Sarah A. Steckler
Partner
CONTACT INFORMATION

V-Card
New York State Legislature Considering Law to Permit Transfer on Death Deeds

10/23/2023

A pending bill before the New York State Legislature would permit transfer on death deeds (so-called TOD deeds). A TOD deed permits the owner to transfer real property to a named beneficiary or beneficiaries upon the owner's death. A TOD deed may eliminate the need to probate a simple estate and it would also give the beneficiary an automatic "step-up" in basis that can substantially reduce liability for capital gains taxes.

For more information, please contact a member of our Real Estate or Trusts and Estates Groups.

Warshaw Burstein Joins IR Global

07/31/2023

Warshaw Burstein, LLP today announced it has joined IR Global, a multi-disciplinary professional services network that provides legal, accountancy, and financial advice to companies and individuals around the world.

End of Year Estate Tax Planning

12/12/2022

With the holiday season upon us and gifting in mind, in 2022, you can make a tax-free annual exclusion gift made of cash or of tangible assets such as stocks, real estate or shares of a family business

Partner Sarah Steckler Featured on WVOX Radio Show

03/25/2022

Sarah Steckler, a partner in the Trusts and Estates and Elder Law groups was a featured guest on "Time to Talk with Jen Graziano" on WVOX 1460 AM on February 28, 2022. Sarah discussed Senior Law Day programs in Westchester County, as well as basic information about trusts and estates planning.

player

2022 TRUST AND ESTATES UPDATES

02/07/2022

The federal gift tax exemption amount for gifts made in the year 2022 is $12.06 million per person ($24.12 million for a married couple) up from $11.7 million in 2021. However, the exemption amount will be reduced by approximately one-half on January 1, 2026, if Congress does not act to make the higher exemption amount permanent.

Updated Nursing Home Visitation Guidelines In New York State

01/14/2022

On January 7th, Governor Hochul announced as of January 12, 2022, all visitors to nursing homes must present a negative COVID test, wear a high-quality mask, and physically distance from all facility personnel, visitors and patients.

2022 Medicaid Income and Asset Levels

01/07/2022

Warshaw Burstein, LLP provides sophisticated and cost-effective Elder Law services available to seniors and individuals with disabilities. We take an individualized approach and collaborate with their care team to understand our clients' circumstances and personal goals.

Medicaid Regional Rates for Calculating Transfer Penalty Periods for 2022

01/07/2022

The New York State Department of Health has increased the 2022 Medicaid regional nursing home rates which must be used when calculating a transfer of assets penalty period for coverage of nursing facility services. These rates are based on average private pay nursing home costs in each of the seven regions in the State.