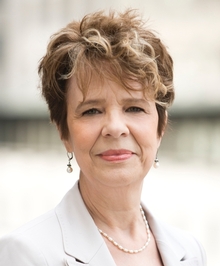 PRACTICES
Litigation
Construction
Matrimonial and Family Law
EDUCATION
Tehran American High School, Tehran, Iran

Boston University, School of Fine Arts, B.Music, Performance/Voice Major

Mozarteum, Salzburg, Austria, Certificate of Study, Voice

University of Detroit School of Law, J.D., cum laude, 1983
ADMISSIONS
1983, Michigan
1985, New York
U.S. Court of Appeals, 3d Circuit
U.S. District Court, Southern District of New York
U.S. District Court, Eastern District of New York
U.S. District Court, Eastern District of Michigan
LANGUAGES
Linda Genero Sklaren
Partner
CONTACT INFORMATION

V-Card
Representative Matters of Linda Genero Sklaren

Melvin v. Melvin, 2017 NY Slip Op 07421 (1st Dep't, October 24, 2017)
In re Marie-Irene D., 153 A.D. 3d 1203 (1st Dep't 2017)(Of Counsel to Nina Rumbold, Esq., attorney for Respondent)
Rosen v. Schwartz, 148 A.D. 3d 653 (1st Dep't 2017)
Matter of Brooke S.B. v. Elizabeth A. C.C., __ N.E. 3d __, 2016 N.Y. Slip Op. 05903, 2016 WL 4507780 (August 30, 2016)
Rubin v. Rubin, 2015 NY Slip Op. 09377 (1st Dep't, Dec. 22, 2015)
Nacos v. Nacos, 124 A.D. 3d 462 (1st Dep't 2015)
Maxine Co., Inc. v. Brink's Global Services, USA, Inc., 27 Misc. 3d 1221A, aff'd, 94 A.D. 3d 53 (1st Dep't 2012)
NY Trenchless v. Hallen Constr. Co., Inc., 82 A.D. 3d 850 (2d Dep't 2011)
Blakeslee Arpaia Chapman, Inc. v. The Whiting Turner Contracting Company, 2007 WL 1029960 (D. Md.), app. dismissed, (4th Cir., Docket No. 07-1364)
Paraschos v. YBM Magnex Int'l Inc., 130 F. Supp. 2d 642 (E.D. Penn. 2000)
Bailer v. Perez-Veridiano, 266 A.D. 2d 249 (2d Dep't 1999)
In re the Sunrise Group Mortg. Note Sec. Litig., 1998 U.S. Dist. LEXIS 12802 ( S.D.N.Y.)
Greenberg & Shaw, Inc. v. Brinks, Inc., 1998 WL 142337 (S.D.N.Y.)
Volkswagen de Mexico, S.A. v. Germanischer Lloyd, 1991 U.S. Dist. LEXIS 9798 (S.D.N.Y.)
McGann v. Baranowicz, 617 F. Supp. 845 (S.D.N.Y. 1985)
From 2010 through 2012, represented a Union's investment advisors, drafting and negotiating all contracts relating to the construction of the Union's new headquarters in Brooklyn, New York and represented the Union in connection with building underpinning issues, property rights, warranty and subcontractor disputes and a surveying malpractice claim.
For over fifteen years, successfully represented a global transportation company in claims and actions relating to the domestic and international shipment of high value items.
Drafted construction contracts for senior assisted-living facilities all across the United States, including Guaranteed Maximum Price and Cost Plus a Fee contracts.
Advised adjoining property owners in New York City on issues relating to construction on neighboring property, including negotiating and drafting license and "good neighbor" agreements for the protection and underpinning of adjoining property and compliance with New York City Administrative Code/Building Code rules and regulations.