Coronavirus and the Workplace Updated: Business Guidance for Vaccinated People
05/20/2021
---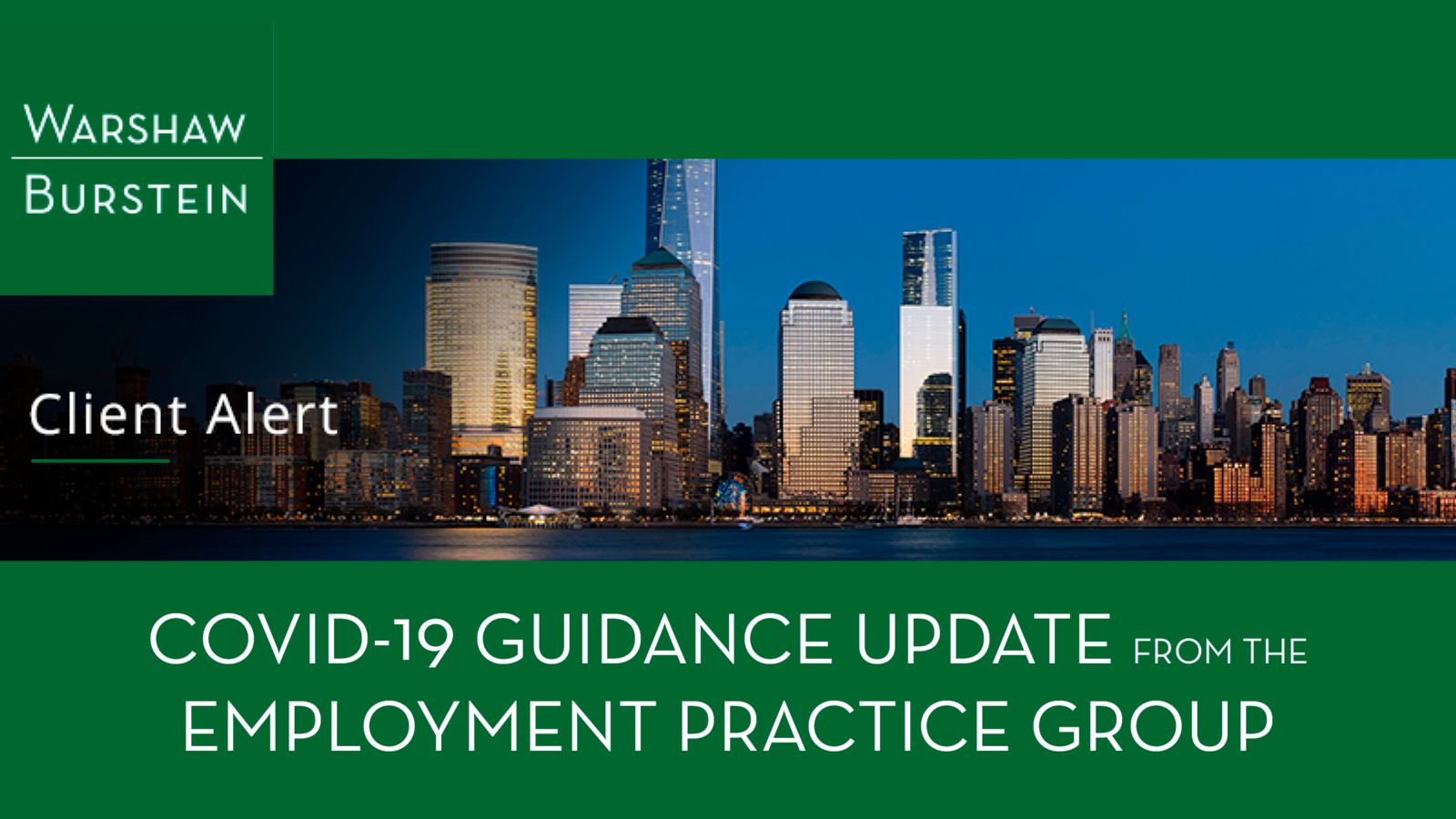 On May 19, 2021, New York State lifted most capacity restrictions on business establishments including retail, food services, gyms, fitness centers, amusement parks, entertainment, hair salons, barbershops, and offices. At the same time, the state also issued an updated Reopening Guidance for businesses and public settings following an earlier announcement that New York State would be adopting the Centers for Disease Control and Prevention's ("CDC") guidance for fully vaccinated people. With some exceptions, New York State's Reopening Guidance essentially leaves it up to each individual business to determine whether to continue to adhere to mask-wearing and social distancing requirements or to follow the CDC's "Interim Public Health Recommendations for Fully Vaccinated People." Under the new CDC guidance, announced on May 13, 2021, fully vaccinated people no longer need to wear masks or follow social distancing protocols, except where required. However, individuals who are not vaccinated must continue to wear masks and be socially distanced. Additionally, fully vaccinated people no longer need to get tested following known exposure to the COVID-19 virus unless they are residents or employees of a correctional detention facility or a homeless shelter.

New York State's Reopening Guidance
New York State's Reopening Guidance, effective May 19, 2021, adopts the CDC's recommendations for fully vaccinated people for most businesses and public settings. Businesses may either continue to require masks and social distancing or follow the new CDC guidance. Businesses may apply the CDC guidance to the entirety of their establishment or a separate, designated part. If a business chooses not to follow CDC requirements, all individuals must continue to wear masks and socially distance themselves.
New York State's Reopening Guidance contains different requirements for eligible businesses who apply the CDC guidance depending upon whether the business operates above or below the state's social gathering limit of 250 indoors or 500 outdoors. Smaller businesses operating below the state's social gathering limit may either require proof of vaccination status or rely upon an honor system of self-reporting. Larger businesses that operate above the state's capacity limit are required to obtain vaccination proof through paper form, digital application or the state's Excelsior Pass. Businesses can operate up to 100% capacity if all attendees are fully vaccinated. Otherwise, business capacity is limited by the amount of space available for patrons to maintain the required distancing. Fully vaccinated individuals do not need to be socially distanced in assigned sections and masks are optional. Unvaccinated children younger than 16 may be seated with an adult in a fully vaccinated section. Unvaccinated people or people who have an unknown vaccination status must still maintain six feet of social distancing in assigned sections and wear masks except while seated and eating or drinking. Masks are optional for outdoor events while seated and socially distanced. Individuals over the age of four who attend indoor events over the State's capacity limit and do not show proof of full vaccination status must present proof of a recent negative COVID test result. Outdoor events do not require proof of a negative COVID test result.

What Employers Need to Know
It remains unclear what impact the CDC guidance for fully vaccinated people will have on the workplace. In December 2020, the U.S. Equal Employment Opportunity Commission ("EEOC") issued guidance for employers addressing the vaccination status of employees from a federal law, and specifically an Americans with Disabilities Act ("ADA"), perspective. These materials were prepared prior to the new CDC's guidance and the EEOC has not indicated whether it intends to update its guidance for employers.
Under existing EEOC guidance, employers may generally ask employees whether they are vaccinated and request proof of vaccination without violating the ADA. Therefore, an employer may adopt the updated CDC guidance for fully vaccinated people. However, the EEOC cautions that inquiring why an employee is unvaccinated may lead to information concerning an employee's underlying medical condition that requires an accommodation. If an employer requires employees to provide proof that they have received a COVID-19 vaccination, the employer may also want to warn the employee not to provide any medical information to avoid implicating the ADA. If an employer does obtain any employee medical information during the vaccination process, the ADA requires employers to keep such information confidential.
The EEOC guidance indicates that an employer may condition employment on vaccination status, provided the employer grants reasonable accommodation to any employee unable to receive the vaccine due to a disability or sincerely held religious belief or practice. Employers who exclude an unvaccinated employee from the workplace or terminate employment without conducting an individualized assessment under applicable federal, state, or local laws risk exposure to legal liability.

Understanding How Changes May Impact Your Business
Employers should adopt written employment policies consistent with applicable guidelines and laws and consult with counsel to ensure compliance. Employers should also remain informed about changes in this area that may impact your business. This can be an overwhelming process. If you have questions concerning how these changes impact your business, please contact
Felicia Ennis
.