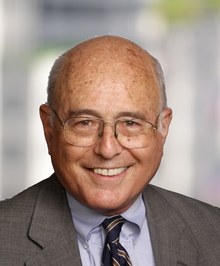 PRACTICES
Trusts and Estates
Trusts and Estates Litigation
EDUCATION
Columbia University, B.A.

Harvard Law School, L.L.B.
ADMISSIONS
New York
California
Florida
CONTACT INFORMATION

V-Card
End of Year Estate Tax Planning

12/12/2022

With the holiday season upon us and gifting in mind, in 2022, you can make a tax-free annual exclusion gift made of cash or of tangible assets such as stocks, real estate or shares of a family business

2022 TRUST AND ESTATES UPDATES

02/07/2022

The federal gift tax exemption amount for gifts made in the year 2022 is $12.06 million per person ($24.12 million for a married couple) up from $11.7 million in 2021. However, the exemption amount will be reduced by approximately one-half on January 1, 2026, if Congress does not act to make the higher exemption amount permanent.

Client Alert: Tax Planning This Election Year

07/22/2020

The Tax Cuts and Jobs Act of 2017 effected a number of tax changes that benefited high-net-worth in­dividuals and businesses. With the upcoming Presidential and other elections this November, which could deliver control of the White House and the Senate to the Democrats, a number of observers have expressed concern that many of the foregoing benefits, as well as benefits that were in effect prior to enactment of the 2017 Tax Act, may be repealed.

For this reason, and because asset values are expected to increase as the recession winds down, there are a number of steps high net worth taxpayers might consider in order to take advantage of these endangered benefits. These steps include triggering income and gain this year, accelerating asset acquisitions and like-kind exchanges, restructuring foreign and domestic business operations, and gift giving. Learn more in this alert.