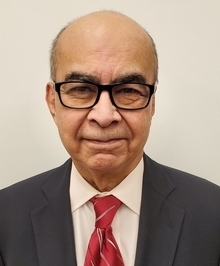 PRACTICES
Corporate and Securities
Litigation
EDUCATION
Delhi University Faculty of Law, Bachelor of Laws
St. Stephen's College B.A.
ADMISSIONS
U.S. New York District Court, Southern District of New York
Supreme Court of India
CONTACT INFORMATION

V-Card
Mr. Ansari is a member of the firm's corporate and litigation groups. He advises on corporate and commercial transactions, M&A, finance, domestic and international litigation (American & Indian law) and arbitration. He also advises U.S. corporations on matters pertaining to Indian business law, banking, foreign exchange regulations and foreign direct investment issues.
Mr. Ansari offers his clients more than four decades of experience representing India-based industrial, servicing and trading companies doing business in the U.S., including several large Indian conglomerate businesses with international reach and particularly extensive U.S. business objectives and holdings. He also represents U.S. industrial and financial clients doing business in India.
Before becoming a lawyer in the U.S., Mr. Ansari practiced law for more than a decade in India, where he achieved an impressive track record of innumerable cases reported by the Indian Supreme Court. His Indian law experience includes negotiating and structuring joint ventures, technology transfer and shareholder agreements; corporate restructuring; tax; international bidding; financing and developing energy, telecommunication and other infrastructure projects; and litigation and arbitration. He has handled sensitive disputes between U.S. companies and their Indian partners. He also has advised U.S. companies on how to handle the fallout in India resulting from deferred prosecution agreements signed by U.S. companies with the Department of Justice. Mr. Ansari understands the complexity of doing business in India and assists his clients to ameliorate transactional risk in a cost efficient manner He helps his clients remain competitive on both a regional and global scale.
PRESENTATIONS
Co-presenter, "Commercial Litigation Outlook: Part 2: Insights and Predictions for Litigation Trends in 2022," Webinar Series, Seyfarth Shaw LLP (April 27, 2022)
"Cross-Border M&A and PE Investments: Deal Trends, Opportunities, Pitfalls and Practical Tips," Practicing Law Institute Conference, New York, NY (January 17, 2018)
"Doing Deals in and with Emerging Markets: BRIC and Beyond 2011," "Doing Business with State-Owned Entities," Practicing Law Institute Seminar, New York, NY (July 22, 2011)
"U.S. - India Business: The Investment and Regulatory Climate in 2011," Seminar, New York, NY (May 24, 2011)
"Doing Deals in Emerging Market: BRIC and Beyond 2010," Local Regulatory Framework: Regulatory Hurdles and Government Approvals, Practicing Law Institute Program, New York, NY (July 23, 2010)
"Doing Business in India: New Economy, Emerging Opportunities," ABA 2009 Annual Meeting, International Law Section, Chicago, IL (August 2, 2009)
"Economic Forum on India and China Business 2009," How to Succeed in China and India at the Fashion Institute of Technology, New York, NY (April 24, 2009
"Law Practice in China, India and Middle East," ABA Section of International Law spring CLE, Washington, DC (April 15, 2009)
PRIOR PUBLICATIONS
Waiver of the Right to Arbitrate: US Supreme Court, LEGAL UPDATE (March 15, 2022)
"U.S. Discovery in an Indian Ligation Legal Era, (November 2021)
"India Is Moving in Right Direction on Intl Arbitration," Law360 (April 11, 2014)
"What the U.S. Immigration Bill Means to India," Legal Era (September 2013)
"Offshore Outsourcing Considerations for Financial Institutions," Bloomberg Law Reports, Banking & Finance (July 6, 2010)
"The Challenges of Doing Business in India," The Metropolitan Corporate Counsel (November 2, 2009)
"India Investment Opportunities Ahead," The National Law Journal (August 31, 2009)
LANGUAGES
AWARDS/HONORS
Ranked a "Senior Statesperson" in Corporate/M&A - India (Asia Pacific) by Chambers Global (2022)
Ranked a top Corporate/M&A attorney in the USA and India (Asia Pacific) by Chambers Global (2008-2022)
Named a "Top Cross Border Lawyer" by Legal Era (Feb 7, 2022)
Named to the International A-List by India Business Law Journal (2019-2020)
Ranked as one of the top Corporate & Finance: Mid-Market Attorneys in the India
Overseas Counsel section of Chambers Asia (2012-2015)
Recipient of Lifetime Achievement Award by Legal Era Magazine (2014)
Recipient of Corporate Leadership Award by South Asian Bar Association of New York (2012)