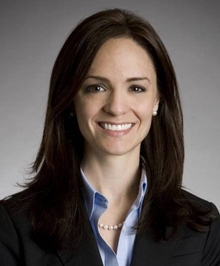 PRACTICES
Intellectual Property
Litigation
EDUCATION
Davidson College, Davidson, NC (B.A.)

University of Virginia, Charlottesville, VA (M.A.)

Wake Forest University School of Law, Winston-Salem, NC (J.D.)



ADMISSIONS
New York (2011)
North Carolina (2008)
U.S. Supreme Court
U.S. Court of Appeals for the Federal Circuit
U.S. District Court for the Southern District of New York
U.S. District Court for the Eastern District of New York
U.S. District Court for the Middle District of North Carolina
U.S. District Court for the Western District of North Carolina
Kristin G. Garris
Counsel
CONTACT INFORMATION

V-Card
Representative Matters of Kristin Garris

A few examples of Ms. Garris's prior intellectual property experience include playing a crucial role in successfully representing:


A well-known U.S. clothing brand in a priority and trademark dispute against a foreign competitor.
A well-known record label in an opposition proceeding before the U.S. Patent and Trademark Office's Trademark Trial and Appeal Board concerning use of the client's mark by another company for electronic goods. The opposition proceeding went through trial and resulted in a decision in favor of the client.
A well-known furniture retailer in a dispute with an Internet fan site.
A major international bank with obtaining an injunction and damages and attorneys' fees against a web site delivering full copies online of proprietary analyst reports of the client.
The licensor/owner of a well-known brand of men's clothing with an international arbitration proceeding against its trademark licensee in China. After conducting a full trial on liability, the team successfully obtained an arbitral award confirming the termination of the license, finding that the licensee materially breached the license agreement, enjoining the licensee's activities in China and dismissing the China licensee's counterclaim. The team obtained a damages award in the amount of $1.2 million, a permanent injunction including an order to return or destroy all remaining inventory, and an award of attorneys' fees and costs. This arbitration award was later formally recognized by the Shanghai Number One Intermediate People's Court.
Multiple companies in obtaining domain names through Uniform Domain-Name Dispute-Resolution Policy proceedings, including the following examples:

o Forum No. 1712212 (rocketonlinebusinessloans.com, rocketonlinebusinesloans.com, rocketonlineloans.com, rocketwins.com, rocketfinancing.com) Feb. 22, 2017.

o WIPO Case No. D2014-0147 (carolinacarports.com) Mar. 25, 2014.

o WIPO Case No. D2013-0061 (timelessclassicvacations.com) Feb. 20, 2013.

o WIPO Case No. D2012-0167 (ikeamarket.net) Mar. 22, 2012.