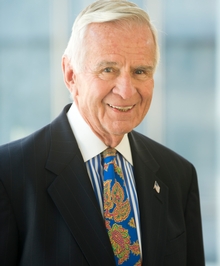 IN MEMORIAM - Eugene Callahan
Counsel
CONTACT INFORMATION

V-Card
Warshaw Burstein, LLP wishes to note, with great sadness, the passing of our former partner, friend and colleague, Eugene J. Callahan, who died on March 11, 2022.
Gene was a valued member of the firm. He joined the Trusts and Estates Department in 2017, and we all benefited from his keen intellect, positive outlook and upbeat personality.

Prior to his joining the firm, he was a partner at Wormser, Kiely, Galef & Jacobs LLP. A graduate of Fordham University Law School, he was dedicated to his clients' needs. He was a trusted fiduciary for many of his clients, and was asked to serve with them on the boards of several charitable organizations.

He will be missed by all of us. We wish Gene's wife, Gini, and his sons, Eugene, Jr., Scott and Keith comfort and peace.